Ether Scout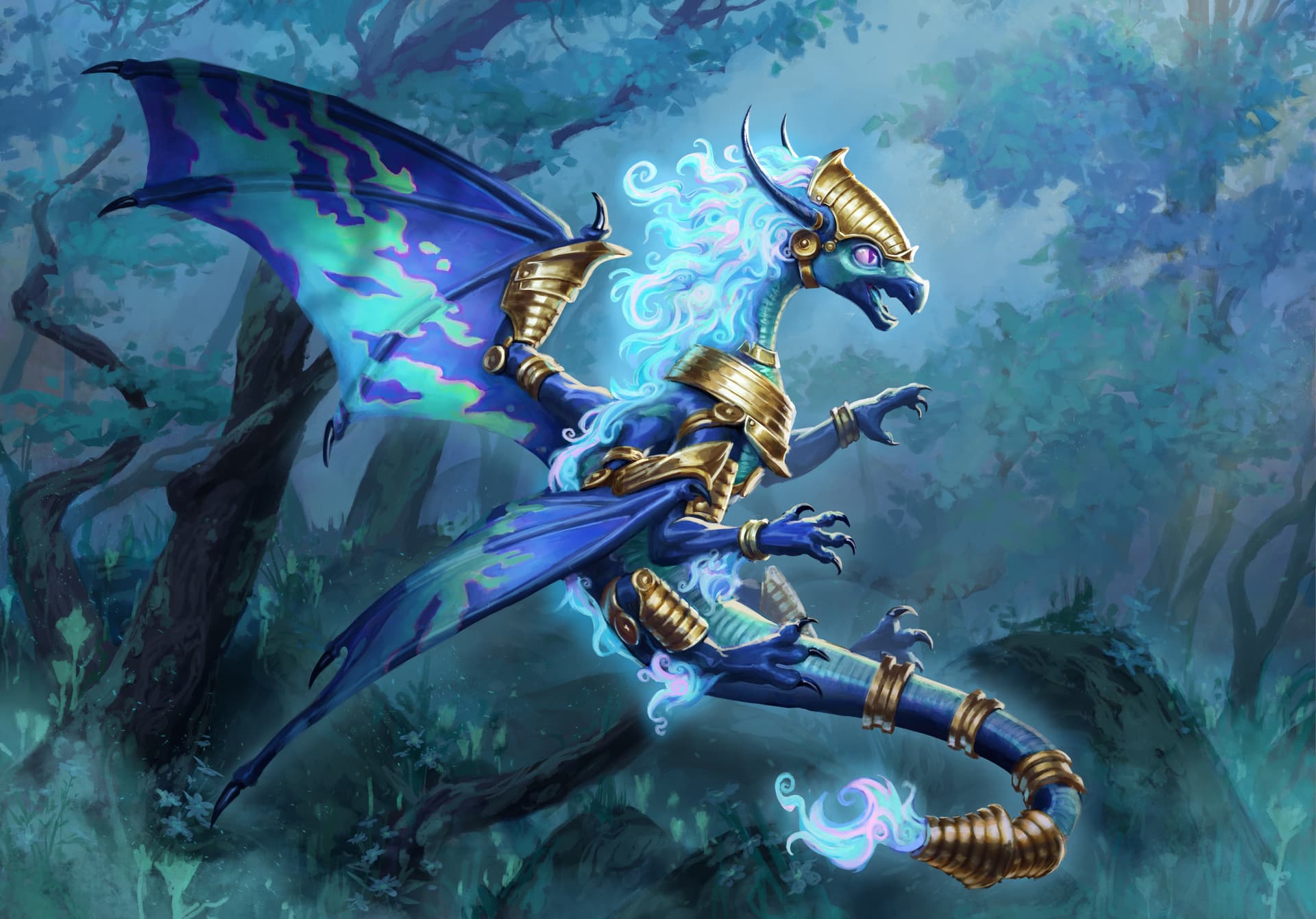 Its ghostly flames guide travelers - but to where?
Mythic Fire Warrior
Spells
ENTRANCEMENT - Active | White | 1 Rage
Disables towers from taking action for (6) seconds or until tower is attacked. Duration: 6s.

VERDANT AEGIS - Active | White | 2 Rage
Reduces incoming damage by (100)%, absorbs mage tower supershots to grant (2) rage, and nullifies the effects of other supershots. Duration: 5s, Cooldown: 4s.

VOLATILITY - Active | White | 1 Rage
Increases breath damage by (300)%. Empowers breath to poison towers for (1)% of the dragon's modified max HP for (4) seconds. Duration: 4s, Cooldown: 4.5s.

HELLFIRE WISP - Active | White | 1 Rage
Deals (125) times the dragon's attack power in damage to towers in the target area. Heals for (15)% of the dragon's modified max HP. Dragon gains (1.5) rage after casting the spell. Cooldown: 4s.
Runes and Glyphs
Portrait
Design Intent and Strategy
The ghostly blue flames of the dragon Cuadart have long been a guide to travelers in the Twilight Woodlands. But always the question–- where will this dragon lead the unwary? Many times Cuadart's interventions are benign, but at other times, whether governed by whim or reason, the dragon becomes a fearsome and dangerous foe.
Cuadart's everburning flames can hypnotize or daze the unwary, and it can focus this inherent power into its Entrancement ability. Entrancement prevents whatever it strikes from acting, stunning enemies and locking them in place.
Despite its mischievous appearance, Cuadart is a tough, durable dragon who can fight through many wounds. Its powerful Verdant Aegis ability enhances this durability, allowing it to shrug off many attacks and gain power from absorbing some attacks.
Once battle is joined, Cuadart's flickering flames blaze higher, and its Volatility spell burns its enemies and covers them in a corrosive corrupting power. When pressed, Cuadart can unleash a powerful hellfire wisp, a blast that shatters almost any foe it touches.