Herald of Dawn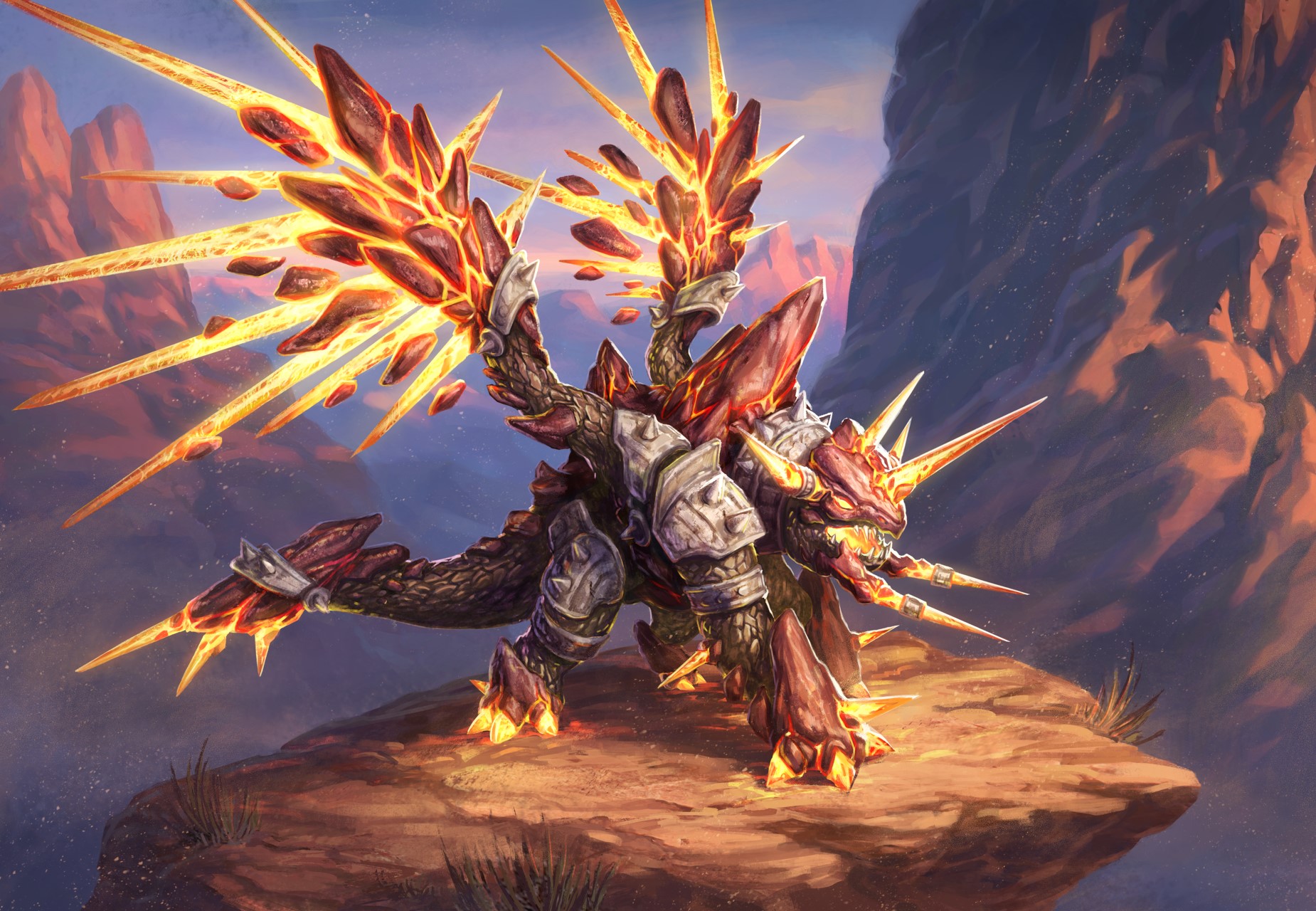 Long have I held vigil. The cusp between dark and light, the first break of the morning sun. These are what I guard.
Mortals know not that there are threats to time itself, thieves and corruption that could pull great power from the break of dawn.
Yes, we are newly revealed to the world, but we are not new.
Let those who break chains know...
Let those who pull ancient curses from the earth know...
Let the corruption that slithers beneath the light know...
I and my siblings stand resolute!
Mythic Earth Warrior
Spells
● BREAK OF DAWN - Active| White | 1 Rage
First cast increases Dragon Attack damage by (200)% until second cast. Next cast damages (15)% of Dragon HP in radius and stuns for duration (3s).
● NIGHT INTO DAY - Active | White
Cycle between NIGHT'S LAST VESTIGE and SUNRISE.
● NIGHT'S LAST VESTIGE - Active | Blue | 1 Rage
The dragon flies at (50)% of its base flying speed and cannot be hit by tower attacks for the duration of the spell. May still attack and cast spells. Duration: 2. Cooldown: 4s.
● SUNRISE - Active | Red | 1 Rage
Deals (15)% Dragon HP to nearby buildings. Restores (10)% of dragon's modified HP and dragon becomes invincible for (2) seconds. Invincible blocks Mage Tower's supershot rage drain/freeze effect. Duration: 2s. Cooldown: 4s.
● BRAND NEW SKY - Active | Blue | 0 Rage
Gains 2 rage on cast. The dragon heals for (5)% of its max hp upon destroying towers while spell is active. Duration: 4s. Cooldown: 4s.
● SUNBEAM - Active | White | 1 Rage
Dragon fires a projectile that deals (500) times the dragon's attack as damage to towers in target area. Heals 0% HP on cast. Cooldown: 5s.
Design Intent and Strategy
True to its role as Herald of the Dawn, Ammak opens most battles with a blast of sunlight. The Sunbeam spell can obliterate a single tower, opening the opposing base to the rest of its attacks. As the attack continues, Ammak empowers its breath with the Break of Dawn spell, a powerful damage amplifier.
At this point in the battle, Ammak's gameplay requires careful choices. At any time, Ammak can end Break of Dawn, and doing so releases a powerful blast that stuns all towers in range. However, ending the ability also weakens Ammak's breath damage for a short time until the ability is available to activate again.
To destroy the most powerful opponents, Ammak must use this stun from Break of Dawn in conjunction with its other defensive abilities. These abilities combine into Night Into Day, a two-ability sequence that includes Night Into Day, a short cloak, and Sunrise, a powerful blast of destructive power accompanied by a brief period of invulnerability. These two abilities have short breaks in between their uses, but picking the right time to release Break of Dawn's stun can cover most of this gap.
These abilities make an effective but rage-intensive sequence, but Ammak's final ability, Brand New Sky, grants a burst of extra rage albeit with a long recovery time between uses.
Ammak, Herald of the Dawn, was the first of the Radian Dragons to reveal itself to the wider world, and favors straightforward aggression to solve its problems.