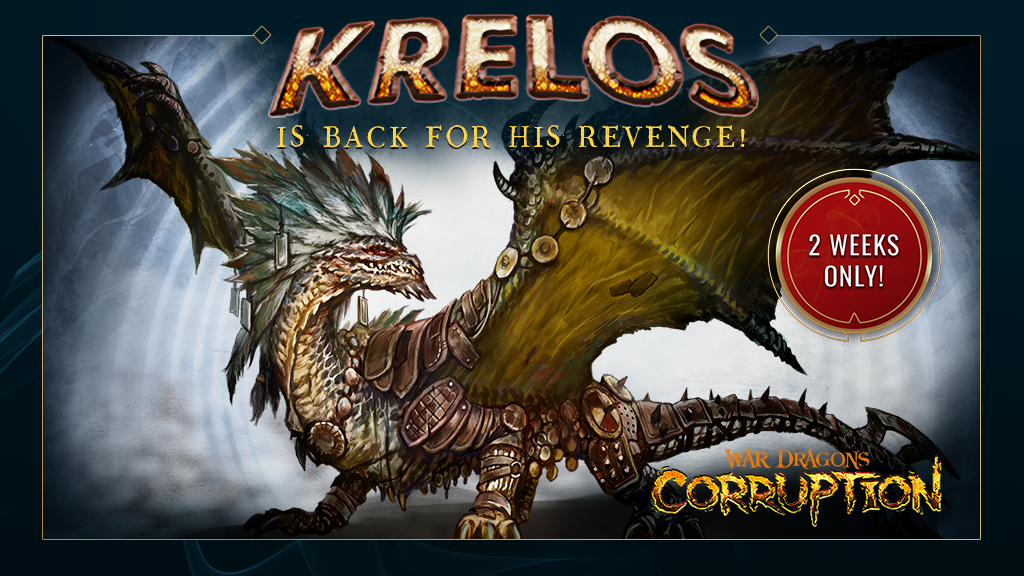 Dear Dragon Lords,
Several years ago, we launched Krelos, a dragon that introduced exciting new abilities for players who were able to acquire it. Over time, many players have requested that we bring back Krelos to allow those who missed out on the dragon a second chance to obtain it.
Initially, we declined these requests out of concern for upsetting game balance. However, after further consideration, we are excited to announce that we will be bringing Krelos in a way that will promote game parity without disrupting the meta or gameplay.
Here are the details:
Krelos will be available the last two weeks of every season (starting in the Corruption season on 5/17) as part of the Krelos Revenge Branch.

Krelos will remain capped at Eldritch tier, which is the tier at which Krelos was originally launched. No new levels, stats, or spells will be added to Krelos.
The branch will only contain the Krelos egg and Krelos evolution stones.
If you already have Krelos and some evolution stones, alternative rewards will be available instead of the evolution stones you already have.
The branch will reset every season, so please plan ahead.

The total cost of the branch will be 26,000 sigils.
The Krelos Revenge Branch is in addition to, not instead of, the typical Resurrection Branch.
The Krelos Egg and Krelos Evolution Stones will also be available for purchase in the store for $4.99 and $49.99, respectively.
We are thrilled to bring back Krelos for those who never had the chance to obtain the dragon. We can't wait to see all the new Krelos runs in the future!