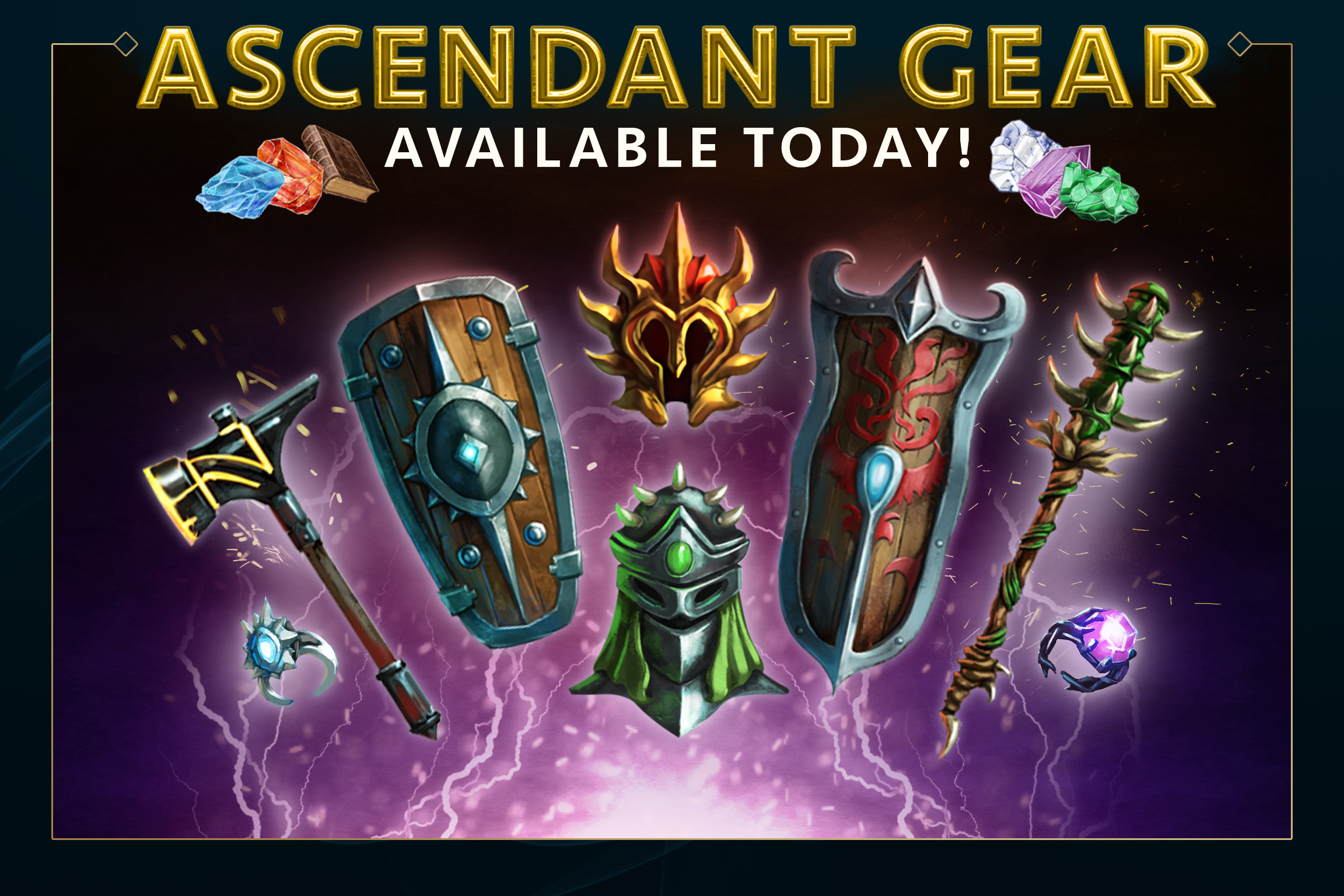 Hello Dragon Lords,
The full set of Ascendant Gear has launched with today's update!
As described in the Ascendant Gear Preview, Ascendant Gear is the next evolution of craftable gear within War Dragons and it will further allow you to customize your gear kit before heading into battle.
For general information about Ascendant Gear, please refer to the link above.
What's new since the Boots launch?
Ascendant Gear versions of Boots, Helms, Pants, Chest Plates, Gloves, Rings, Shields, and Weapons are being released.

Note: only one Ascendant Ring per defensive gear set is being released.

New sub-stats are being released.

Ascendant Gear's Salvage value was increased to 20% (from 5%).

Added Ascendant Gear currencies to Season and Atlas Season branches.

Added Ascendant Gear currency trades to the Trading Post.

Enabled earning Training Camp points for crafting and leveling Ascendant Gear.
Overview of Ascendant Gear, from PGrdm
Hey everyone, this is PGrdm, here to share some design goals and thoughts along with the release of the full set of Ascendant Gear!
Cost / Benefit of Crafting Ascendant Gear
Cost is an important part of any addition to War Dragons. Ascendant Gear was designed with random substat possibilities. That means that you won't get exactly what you want on the first try. Much like normal gear crafting, where getting Elite is a 5% chance, with Ascendant Gear you're unlikely to hit a jackpot right away. We know that means a lot of crafting and salvaging, so we've intentionally made it cheaper to craft and level Ascendant gear for the first few upgrade levels. With Basic Gear, it takes on average 20 crafts to get an Elite piece. With Ascendant Gear, it only takes one craft to get a piece of gear with similar power scaling.
Regardless, I heard feedback that salvage returns were too low, so we've increased the gemstone return when you salvage a piece of gear from 5% to nearly 20% to mitigate some of the risk of initially crafting Ascendant Gear.
As you continue to level up your Ascendant Gear your substats will grow in strength and the cost will rise. Once the gear has outpaced Elite in power, it becomes more expensive to upgrade than Elite Gear but it's always cheaper than upgrading mythic gear.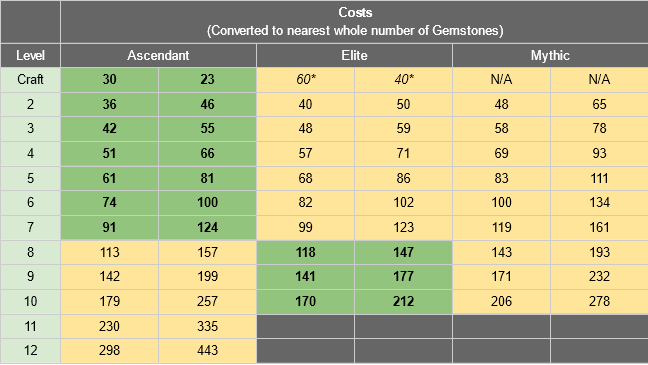 *Elite initial crafting cost is based on a 3 + 2 gemstone-equivalent crafting cost and factoring in the 5% chance to craft an Elite piece of gear.

Green cells

= cheapest level upgrade cost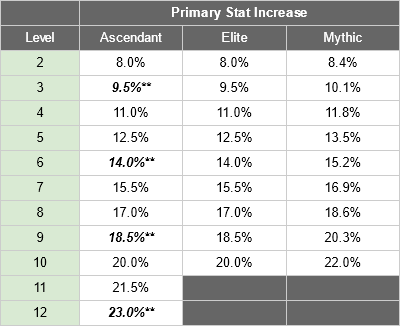 **In addition to primary stat increases, Ascendant Gear has sub-state value increases at levels 3, 6, 9, 12.
Crafting and Substats
Next, I want to talk a bit about the randomness of Ascendant Gear. The goal with Ascendant Gear is to give players more possibilities in how they build their dragons and bases. With random stat distributions, gear is not as clearly good and bad. We encourage you to start collecting a lot of gear. Over time, you can slowly level those pieces up and even have alternate pieces that you can swap out for different dragons. When a new season starts, maybe you already have the perfect level 1 piece sitting in your inventory that you saved from last season. Maybe your gear can play a more interesting role in what mythic you want to go for. We hope that players will share what they make, personalize with their own substats that work the best for them, and have fun working with their teams and come up with strategies and builds.
Strategies for Crafting and Collecting Ascendant Gear
Let's talk about how to get the Ascendant Gear you want. We made the decision to show all the possible substats that each piece of gear can have in the game's crafting window. Feel free to look through them and think about what looks the best to you before you even start crafting (and ask your team too). Additionally, we felt it was very important to show all 4 of your substats immediately at level 1. With the ability to see right away what the substats are, you know exactly what you're getting before you invest. Substats can only increase as the gear levels, but never change to other substats or decrease in strength. The only thing that's random after the gear is created, is how much it grows. We also don't want you to roll on a good piece of gear and end up with a lot less than someone else who rolled on a similar piece. We've made sure that those bands are relatively small, so you'll never be far behind someone with similar substats because of how you rolled. Max rolled substats are not necessary nor a definitive part to staying competitive.
Remember, you don't have to level every piece you make, if the substats don't look good, salvage it. The only way you end up with maxed out gear that has substats you don't like, is if you leveled gear with substats you don't like.
I've said quite a bit already so I want to talk about one final advantage that this gear adds to War Dragons. Rewarding players with new permanent power. Amassing a giant armory of gear is going to take time. Unlike seasonal dragons, gear is a permanent part of the game experience. In time, you will collect multiple sets of gear, level them up and build a permanent advantage over newer players. As you continue to play and craft, your strength grows in a new way with each great piece of gear you make. Over time as that collection becomes more and more refined you'll find yourself crushing others in battle. Thanks for taking the time to read this. See you in Atlas!
Crafting costs
Crafting costs for all Ascendant Gear are the same, with the exception of Crafting Tomes. Similar to Basic Gear's Crafting Scroll requirements, Ascendant Gear's Crafting Tome requirements differ based on the type of gear being crafted.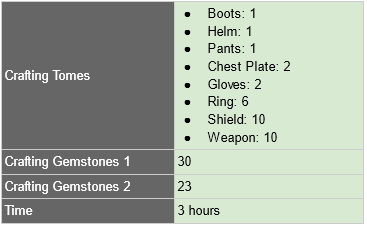 Ascendant Gear Leveling Costs
Gear Leveling costs are the same, regardless of gear type.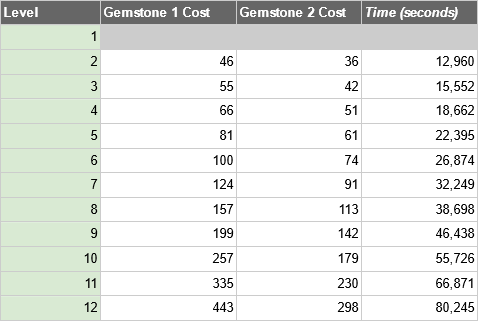 Ascendant Gear Substats
Boots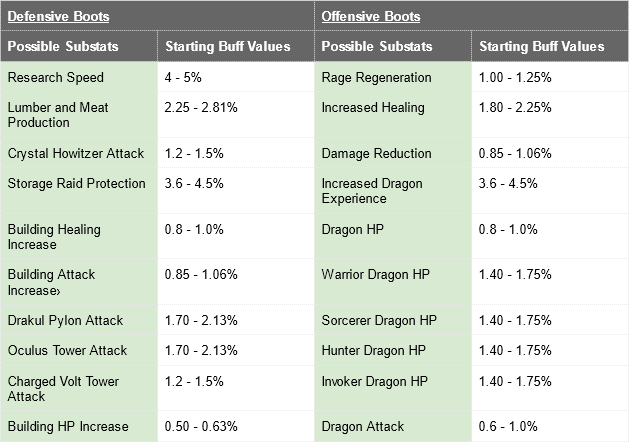 Helm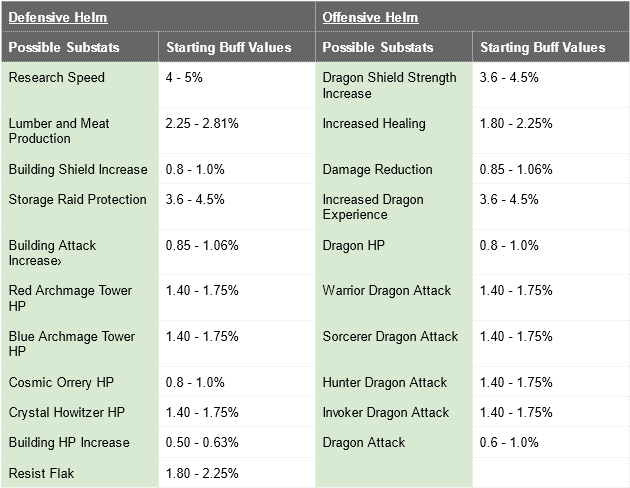 Pants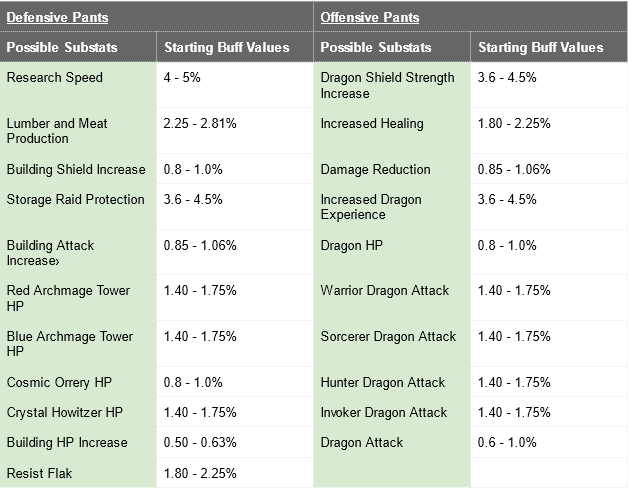 Chest Plate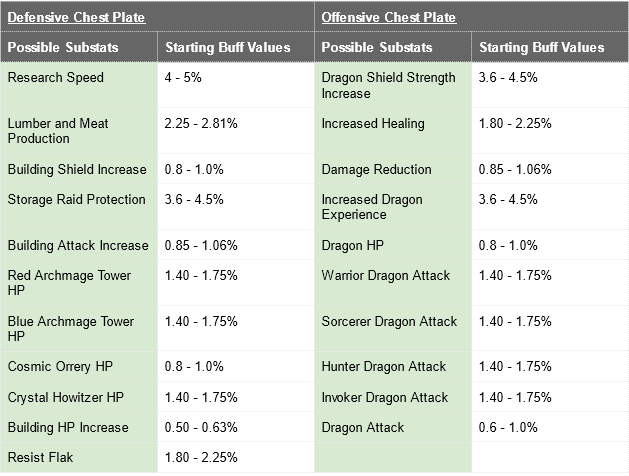 Gloves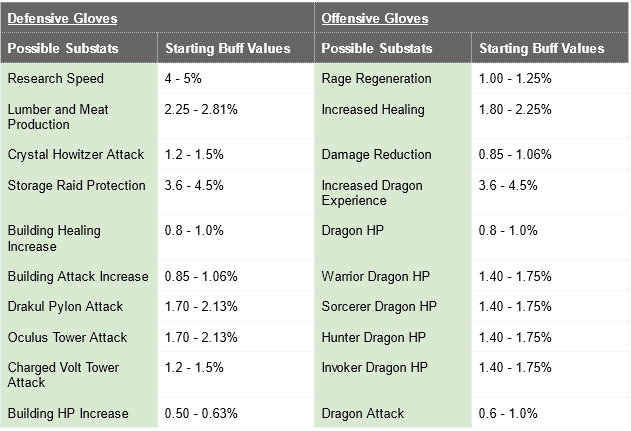 Ring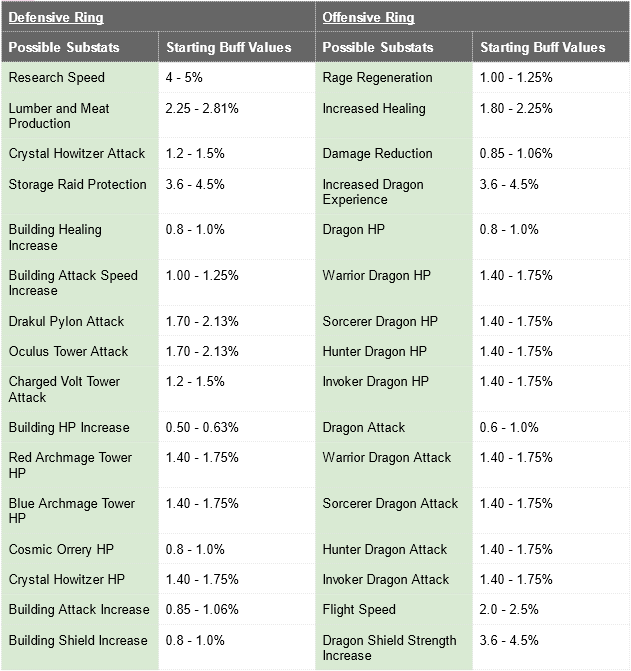 Shield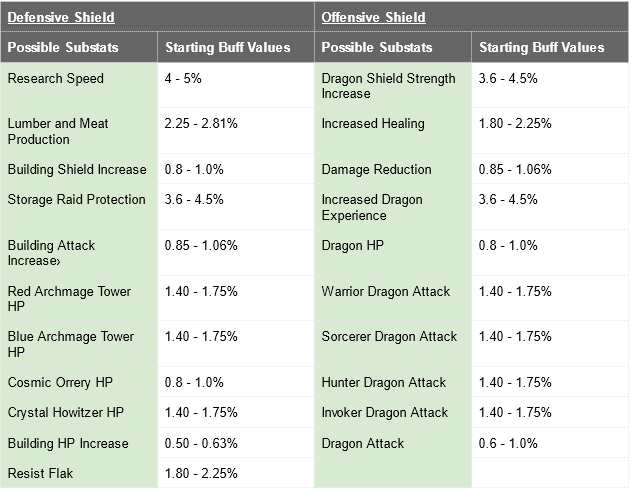 Weapon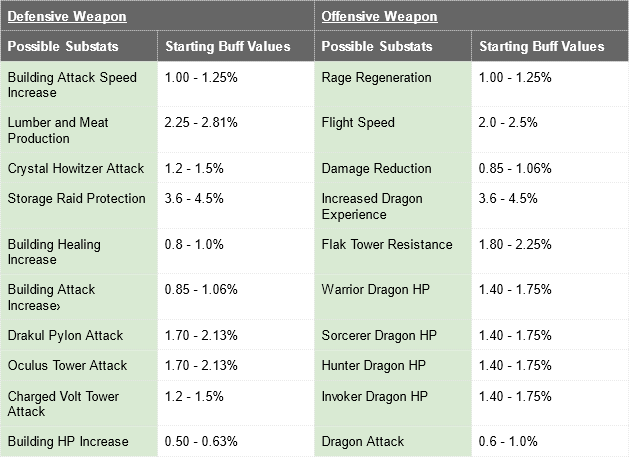 Update:
Removed a duplicate entry of "Building Attack Increase" under Defensive Ring and replaced it with "Building Attack Speed Increase".
Update: Added "Flak Resist" to the Possible Substats of Defensive: Helm, Pants, Chest Plate, and Shield.