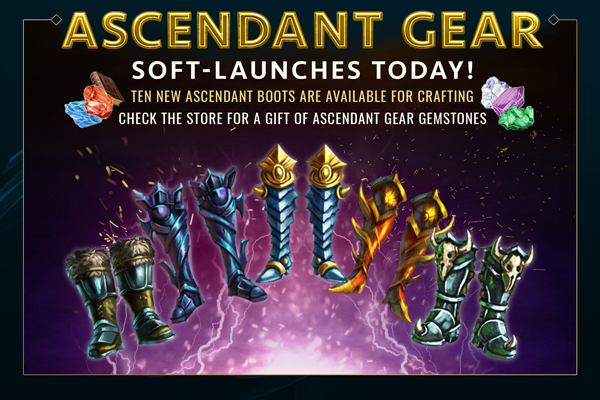 Below is a sneak peak at a new feature, Ascendant Gear, which was discussed in LaikaDream's Stream. Ascendant Gear is the next evolution of craftable gear within War Dragons and it will further allow players to customize their gear kit before heading into battle.
Like basic craftable Gear, Ascendant Gear is crafted in the Forge. However, while the results of Basic Gear crafting are an unknown rarity, the results of Ascendant Gear are unknown substats. Ascendant Gear crafting will always result in gear of the same rarity, which grows to be even more powerful than Elite gear.
To provide runway to obtain feedback and introduce our community to the new Ascendant Gear, we have decided to give everyone an opportunity to craft Ascendant Boots ahead of our full release! **Ascendant Boots will available on Wednesday, March 8, 2023.** Afterwards, we will fully launch Ascendant Gear across all gear types. **To help facilitate this introduction of Ascendant Gear, we will be gifting every player Ascendant Gear currencies!** Be sure to check the store for your gift on Wednesday, March 8!
To access Ascendant Gear, follow the following steps:
Go to the Forge
Tap into the Gear tab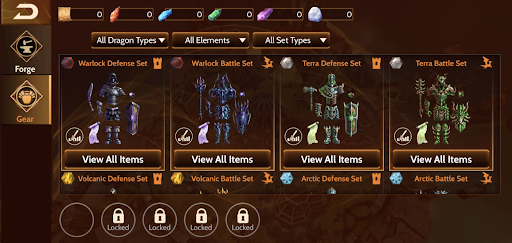 Tap into a Gear set, select the boot
Click the "Ascendant" tab on top, then craft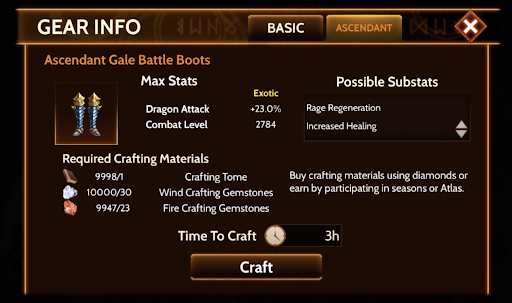 What's new?
New max level of 12!
All crafted gear is of the same rarity (rarity is not random)
New buffs unique to Ascendant Gear
Each piece of Ascendant Gear comes with 4 bonus stats (aka "substats")
One substat grows in value every 3 levels
Introduces two new types of Ascendant Gear currencies, Crafting Gemstones and Crafting Tomes. We will provide ways for Crafting Shards to be exchanged for Crafting Gemstones in a limited time branch.
Additional detail:
Each piece of gear will have 4 substats that are randomly selected from a pool of substats when initially crafted. The pool differs by gear piece (e.g., Boots might have different available substats than Helms).
Each substat will also have randomly assigned values upon crafting within a band. We have designed the band so there is differentiation, but the band will not be too wide.
At levels 3, 6, 9, and 12, one substat will be randomly selected to be increased (along with base stats, similar to Basic Gear).
1 Crafting Gemstone can be obtained by exchanging 1100 Crafting Shards (note that costs will be reduced to reflect the order of magnitude change in value).
Ascendant Boot Crafting Costs:

Ascendant Boot Leveling Costs: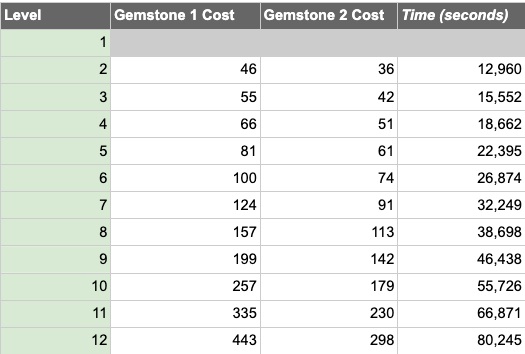 Ascendant Boot Substats: