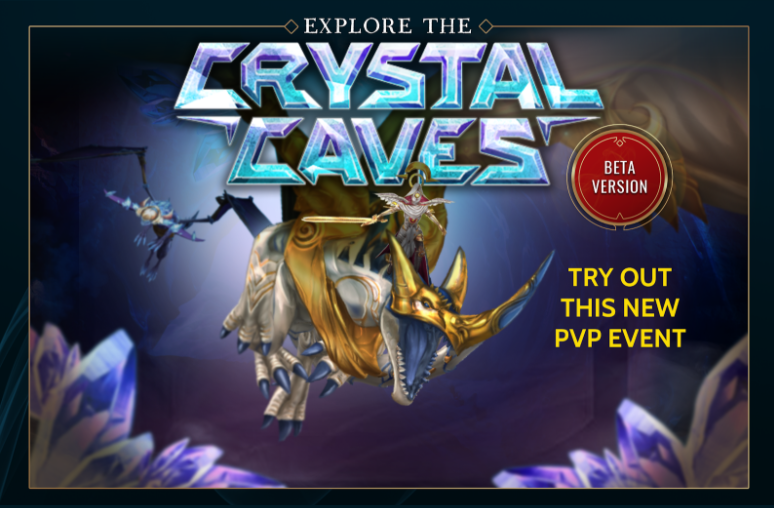 Hey everyone, we're running the Beta version of Crystal Caves this week!
The Pre-Battle phase begins on Wednesday 3/17 (hopefully by 2pm), but the battle phase of the Crystal Caves event itself will start on Thursday the 18th at 12pm PT and end on Friday the 19th at 12pm PT.
Have fun and please don't forget to share your feedback here!
CRYSTAL CAVES RULES
OVERVIEW
In Crystal Caves, teams compete using a variety of dragons to earn the highest VP by destroying crystals and earning bonuses for their team. Every round, teams will be paired randomly inside a cave that houses 3 Crystals - PvP attacks on the enemy team will earn points towards winning the crystal and earning its special bonus. The crystals themselves will respawn after a short cooldown. The Beta event will play out over 6 Rounds, each taking 4 hours.
You deplete the HP of a Crystal by attacking the enemy team. First, you select the crystal you want to target, and then you select an enemy player on the opposing team. When a crystal is completely destroyed by a team, it will go on a short cooldown before it is replaced by a new crystal.
CRYSTAL TYPES AND BONUSES
Dragon Boosts - These crystals increase the HP or Damage of Dragons for your whole team for the duration of Event battles. Bonuses Max out at +25% Boost.
Tower Boosts - These crystals increase the HP or Damage of Towers for your whole team for the duration of Event battles. Bonuses Max out at +25% Boost.
VP Chunk - These crystals provide a big chunk of extra VP for your team. They cannot be attacked with Mega Coins.
VP Boost - These crystals increase the VP earned from flights and VP Chunks for your whole team for the duration of the event. Bonuses Max out at +25% Boost.
Crystal Bombs - Bombs deal percent-based damage for your team to the other 2 Crystals in the cave, making it easier for your team to win them. Bombs will spawn with a Dragon Class or Element requirement and will need a matching Dragon to be flown in order to earn points for it.
UNIQUE DRAGON BONUS
The Crystal Caves event will also provide a special 10x Boost multiplier for every unique Dragon successfully flown in battle. In order to be eligible for the boost, a Dragon must deal 70% Destruction on its own to the enemy Base. Unique Dragon Boost may be applied once per Dragon per Round and will reset at the start of every Round. Up to 10 Dragons may earn this bonus per round. Use lots of different Dragons to earn points faster!
EXTRA DETAILS
Crystal Cave balancing and prizing is tuned for the Beta event and is not reflective of the final release.

HP depleted from the crystal will be a 1:1 ratio with the amount of VP earned from attacking your opponent.

If both teams are about to deplete the HP and have final attacks started at the same time, the first team will be granted the bonus, and the second team will be refunded for their attack.
Don't miss out on flying over to the War Dragons Forums to discuss the brand new Crystal Caves event with your fellow Dragon Lords!